Driving motorcycle is an embodiment of freedom and expression. Diving deep into the riveting universe of motorcycle customization uncovers an art, a craftsmanship that transforms the standard two-wheeled machines into unique extensions of their riders. As the world of motorcycle accessories grows, the allure isn't solely about aesthetics; it's also a narrative of functionality and performance. Monster Customs explores the confluence of individual desire and technological advancements.
The Importance of Personalizing Your Ride
In the expansive world of motorcycling, individuality reigns supreme. Every rider wants a motorcycle that doesn't just function, but tells a story. Customization, the meticulous melding of form and function, accentuates a motorcycle's soul. Accessories, on the other hand, are the chosen ornaments that heighten utility and contribute to the narrative. Both elements become indispensable in carving out a distinct motorcycle identity.
Top 10 Motorcycle Customizations and Accessories
1.
Custom Exhaust Systems: More than Just a Roar
Beyond the guttural roar, custom exhaust systems redefine a motorcycle's character. While the symphonic crescendo of an upgraded exhaust echoes personality, it's also a testament to enhanced power, torque, and efficiency. Brands like Vance and Hines and Bassani don't merely dominate due to their reputation—they've earned their acclaim through relentless innovation and a keen understanding of the motorcycle customization landscape.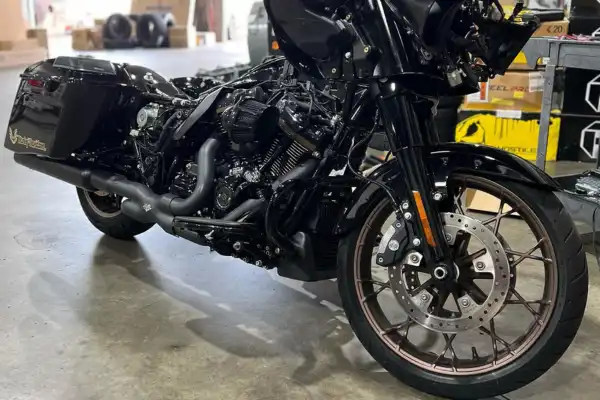 2.
The Art of Motorcycle Paint and Graphics
No longer just about hue, motorcycle paint today is about depth, texture, and personal ethos. When complemented with graphics, it elevates the motorcycle from a mere machine to a canvas of expression. Durability, especially with threats like weather and debris, becomes paramount. Customization here marries resilience with panache.
3.
Upgraded Seats and Saddles: Ride in Comfort
Nothing communicates care like a motorcycle seat tailored for utmost comfort. As many motorcycling aficionados will attest, the journey's pleasure can be hampered by an unsuitable seat. Ergonomically designed saddles promise longer, pain-free rides. Brands like LePera or Saddlemen take customization to the zenith, blending form with unparalleled function.
4.
Helmets: Safety Meets Style
In the domain of motorcycle accessories, helmets occupy a revered space. Their paramount importance in ensuring rider safety is unequivocal. Yet, in the modern age, they've transcended their primary role. Through decals, paints, and innovative designs, helmets have become the crown jewel of motorcycle customization, reflecting riders' personas while safeguarding their most precious cargo.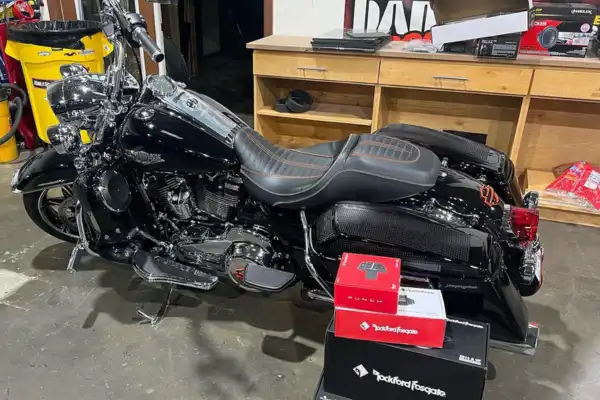 5.
LED Lights: Illuminate Your Path and Personality
Gone are the days when lights were mere functional appendages. Today's LED lights for motorcycles not only promise superior illumination but are also formidable tools of personal expression. The hues, patterns, and intensities available are manifold, allowing riders to customize their motorcycle's aura and ensure a safer journey.
6.
Handlebars and Grips: Taking Control
A motorcycle's control center, the handlebars and grips, are quintessential both in aesthetics and function. Tailored handlebars can enhance the rider's posture, reduce fatigue, and augment control. Grips, while seemingly minor, play a critical role in comfort and throttle response. Brands like ProTaper and J&P are at the vanguard of this customization crusade.
7.
Custom Wheels and Tires: Where Rubber Meets the Road
The interface between motorcycle and earth, wheels and tires are pivotal in defining ride quality. Custom wheels, beyond their dazzling aesthetics, often promise reduced weight and enhanced durability. Tires, tailored for specific terrains and performances, dictate grip, handling, and safety.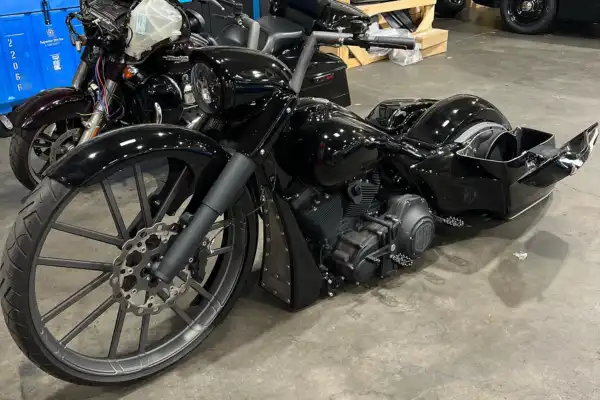 8.
Custom Motorcycle Audio: Soundtrack of the Open Road
Motorcycle journeys take on a new dimension with custom audio, seamlessly blending technology and passion. From handlebar-mounted speakers offering dynamic soundscapes to helmet audio systems ensuring clear music even at high speeds, customizing your bike's sound means pairing the roar of the road with your favorite tunes. Brands like Rockford Fosgate and Cicada lead the way, creating audio solutions that not only enhance the ride's sensory experience but also maintain the bike's aesthetics. In essence, custom motorcycle audio transforms rides into moving concerts, setting the perfect soundtrack for every adventure.
9.
Panniers and Saddlebags: Carry in Style
Every long ride beckons the need for storage. Modern panniers and saddlebags, integral motorcycle accessories, promise ample space without compromising the bike's aesthetics. From waterproof materials to quick-release systems, customization here is about marrying convenience with style.
10.
Digital Dashboards: The Future is Now
The cockpit of the modern motorcycle is experiencing a digital renaissance. Analog dials are making way for customizable digital displays that offer a plethora of information from navigation to performance metrics, enriching the rider's experience and amplifying the machine's futuristic appeal.
Beyond the Top 10: Honorable Mentions
The realm of motorcycle customization and accessories is vast and ever-evolving. Be it the advanced braking systems, the rise of AI-enabled gadgets, or the aesthetics of custom mirrors and footpegs, the horizon is constantly expanding, promising riders an enriched experience with every innovation.
Steps to Customizing Your Motorcycle the Right Way
The odyssey of motorcycle customization is exhilarating yet daunting. From finding artisans who resonate with one's vision to budgeting for both whimsical and practical desires, it's a delicate balance. Treading this path demands diligence, research, and, most importantly, a clear vision.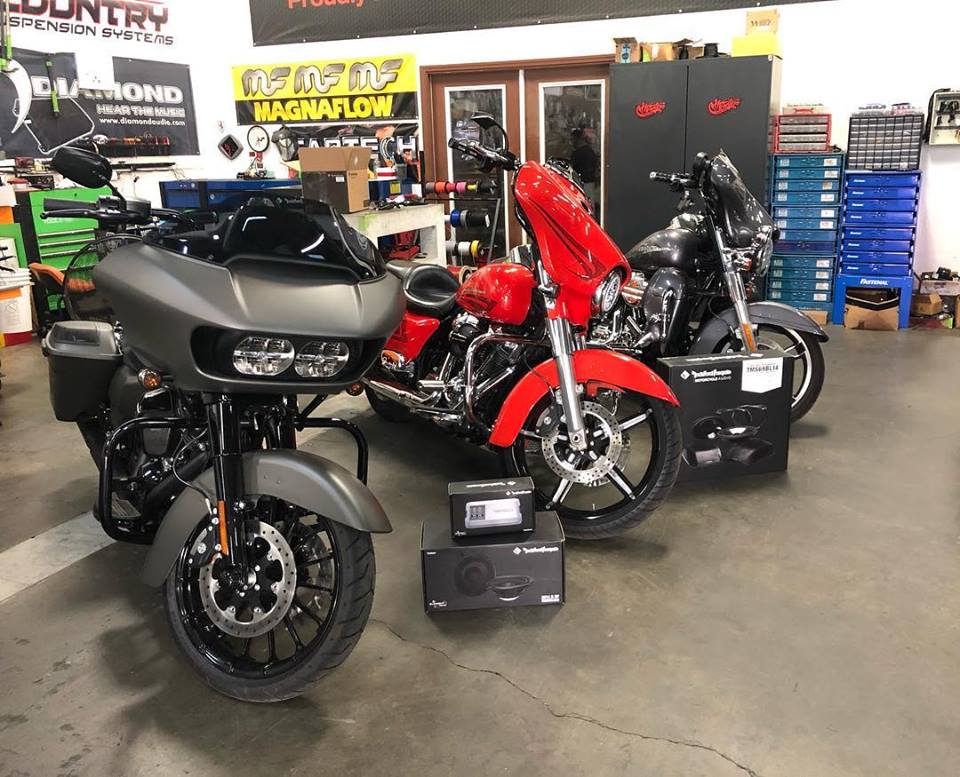 Conclusion
To craft a motorcycle that mirrors one's soul is an endeavor of love and passion. The intricate interplay of customization and accessories transforms a motorcycle from mere machinery to a tale on two wheels. It's a celebration of individuality, a testament to the spirit of adventure, and a reflection of one's identity. Every tweak, every addition, every minute alteration is a step closer to achieving a motorcycle nirvana where the machine and its rider become indistinguishable in their shared essence.
Motorcycle customization, while primarily about personalization, stands as a tribute to innovation, with riders and craftsmen constantly pushing the boundaries of what's possible. Accessories, both functional and decorative, further embolden this effort, acting as the cherry atop an already scrumptious cake. They not only cater to the practical needs of storage, safety, and comfort but also add an extra layer of sophistication and flair to the ride.
However, it's crucial to remember that while customization offers a plethora of opportunities, it should always resonate with the rider's authentic self. After all, in the vast world of motorcycling, authenticity trumps all.
As we draw the curtain on this comprehensive journey through motorcycle customization and accessories, here's an invitation to all riders: Dive deep, explore your options, and gear up right! The open road awaits, and there's no better companion than a bike that feels like an extension of yourself. So, embrace the joy of creating, let your imagination take the wheel, and embark on the ever-enticing path of motorcycle personalization. The horizon is vast, and the possibilities, limitless.
The team at Monster Customs is here to help you build your custom motorcycle. Call us today to discuss your motorcycle build. (770) 420-0002.